JAGDISH KINI (Director & Co-founder)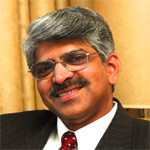 Formerly Executive Director & CEO of Airtel, and MD & CEO of Gillette India, Jagdish brings huge understanding of the Telecom, FMCG & Retail business realities, combined with vast leadership experience in managing and motivating large teams. His areas of special interest lie in developing organizational long term strategy, developing Go-to-Market strategies and plans, developing and managing new territories, people management, sales processes and decision making.
Jagdish's focus is on business strategy and execution, coaching and motivational talks for clients.He is also a trained Executive Coach and mentor to young entrepreneurs.
(For more on Jagdish and his professional background, please click here).
MOHANDAS MENON (Director & Co-founder)
A banker and merchant banker for 18 years, and a leadership and OD practitioner for a further 19 years, Mohan provides advisory and consulting services to the boards and senior managementof large &medium companies, especially in industries such as insurance & financial services, oilfield services, strategic & process consulting, healthcare, and knowledge management services.
Mohan focuses on board and senior leadership effectiveness and is a trained Executive Coach. He also focuses on infusion of strategic investment and growth capital for select clients, through an extensive network of VC/PE funds and investors.
(For more on Mohan and his professional background, please click here)